Just when you thought everything had been written about WW2 already, you read a book like this, so inspired and well thought-through.

In 2001 a letter causes Claire Bradshaw to suffer a heart attack. Recently divorced daughter Claire decides not to let sleeping dogs lie and starts investigating Claire's past.
Mother and daughter eventually go on holiday to France together where Claire tells her story within the French resistance from 1939 onwards: Love, torn loyalties, resistance work, lies, cover lies, betrayal and personal sacrifices.
Gauci does a marvellous job at depicting the personal within the context of the wider picture, the immense risks taken by individuals for the greater good, the complexity of the resistance operations and the dangers of that particular area of WW2 (Brittany).
Plenty of fascinating historical facts and family dramas are woven into this complex story; a very clever plot that comes to a stunning denouement.
Moving, eye-opening and very impressive. I liked this very much.
The book on Amazon US and Amazon UK
Official blurb:
From the author of The Embroiderer comes a powerful account of one woman's struggle to balance her duty to her country and a love she knows will ultimately end in tragedy.
1940. With the Germans about to enter Paris, Claire Bouchard flees France for England. Two years later she is recruited by the Special Operations Executive and sent back into occupied France to work alongside the Resistance. Working undercover as a teacher in Brittany, Claire accidentally befriends the wife of the German Commandant of Rennes and the blossoming friendship is about to become a dangerous mission.
Knowing that thousands of lives depended on her actions, Claire begins a double life as a Gestapo Commandant's mistress in order to retrieve vital information for the Allied Invasion of France, but ghosts from her past make the deception more painful than she could have imagined.
Part historical, part romance and part thriller, Conspiracy of Lies takes us on a journey through occupied France, from the picturesque villages of rural Brittany to the glittering dinner parties of the Nazi Elite, in a story of courage, heartbreak and secrecy.
| | |
| --- | --- |
| Publisher | Ebony Publishing |
| Paperback | 9780648123507 |
| | GB£11.99 |
| | AU$34.95 |
| | 352 pages |
| Ebook | 9780648123521 |
| | £4.56 |
Here is a link to my interview with Kathryn
About the Author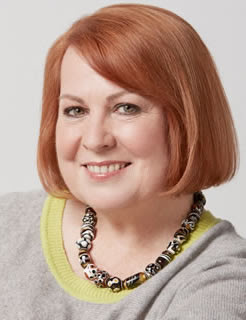 Kathryn Gauci was born in Leicestershire, England, and studied textile design at Loughborough College of Art and later at Kidderminster College of Art and Design where she specialised in carpet design and technology. After graduating, Kathryn spent a year in Vienna, Austria before moving to Greece where she worked as a carpet designer in Athens for six years. There followed another brief period in New Zealand before eventually settling in Melbourne, Australia.
Before turning to writing full-time, Kathryn ran her own textile design studio in Melbourne for over fifteen years, work which she enjoyed tremendously as it allowed her the luxury of travelling worldwide, often taking her off the beaten track and exploring other cultures.The Embroiderer is her first novel; a culmination of those wonderful years of design and travel, and especially of those glorious years in her youth living and working in Greece – a place that she is proud to call her spiritual home.
Buy The Embroiderer
The Embroiderer is a beautifully written novel spanning the 19th and 20th centuries, set against the backdrop of the Greek War of Independence. It was published on 5th November 2014 and is available to buy in paperback and as an ebook.
You can order from all good bookshops and online retailers.
Purchase directly from the publisher here:www.silverwoodbooks.co.uk
Published by SilverWood Books Ltd.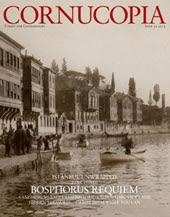 Cornucopia is the award-winning magazine for connoisseurs of Turkey.
The Embroiderer can also now be purchased from the Cornucopia web site.