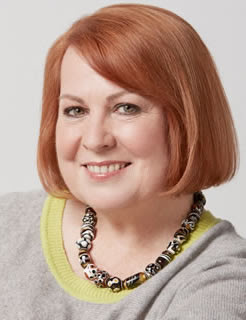 Welcome to another Saturday Interview with a Historical Novelist. Today I have the pleasure of introducing the fascinating Kathryn Gauci. Welcome Kathryn. Please tell us, why did you choose to write historical fiction?
I have always loved history; to be transported to another time and place and learn about how others lived. After all, our own ancestors lived through these times and when we think of that, history is not as remote as we think. It is what shaped us.
What in particular fascinates you about the era you write about?
Since living and working in Greece and studying Turkish culture through my work as a textile designer, I grew to understand the tensions between Greek and Turks. They have a shared history over several centuries, yet politics caused great upheavals leaving behind a legacy of hatred and bitterness that is only just subsiding.
Tell us about the concept behind your books. How did you get the idea?
The idea to write The Embroiderer came from the stories that were told to me by survivors of The Asia Minor Catastrophe and the burning of the cosmopolitan city of Smyrna (Izmir) 
Tell us about your writing history. When was the first time you decided to write and when was the first time you did?
I did write a couple of short stories when I was about thirteen, which I still have but my writing life really began when I had my textile design studio. A part of this work entailed presenting trend directions to my customers. These often meant that I had to create the ambiance in which particular trends were set. That could be anything from the many historical periods, to ethnic/tribal cultures, tropical or Nordic winters.
Did anyone influence you / encourage you to become a writer?
My husband.
What song would you pick to go with your book?
There are two. The haunting music from the Turkish film, Gallipoli by Demir Demikan, and the "Orchestra of Colours"  playing music from Greek composer, Manos Hadzidakis' Giaconda's smile album played on Santorini 1999.
Are you like any of the characters (and how so)?
The main protagonists are feisty, strong-willed women who were prepared to put their lives on the line for others. I would like to think I would have been like them given the problems
What are the best and the worst aspects of writing?
I am never short of ideas but its actually sitting down and getting on with it all. It takes discipline.
How have you found the experience of self-publishing? What were your highs and lows?
It's not easy. There are pitfalls to finding a good company to go with and much as you try to navigate the hurdle, in the end you learn by your mistakes. There is always a light at the end of the tunnel though and connecting with reputable writing groups online such as Alli, is helpful. We can learn from other people's experiences. Apart from that, Its not easy to get your book out there and you need to be constantly promoting it.
What is your life like outside of writing?
I love my home and spending time with my husband Charles who is a magician, and thankfully understands the highs and lows of the creative process. If I have time – which is rare – I like to make glass jewellery, both kiln-formed and flame-worked, which I have been fortunate enough to sell in a wonderful glass gallery in Melbourne. I also enjoy curling up on the couch and watching the old classic black and white films, especially film noir, and foreign films, in particularly French ones as they often have unusual story-lines.
What makes you laugh?
My cat, Rani. And the crazy parrots, lorikeets and galahs that squabble over the food on the bird table outside my kitchen window.
Who would you like to invite for dinner?
From the past; Christopher Columbus, Suleiman the Magnificant, Richard Burton (the adventurer, not the film-star), one or two notorious spies, Cezanne and Picasso. From the present: David Attenborough, Merryl Streep and Helen Mirren, Simon Callow, Alistair Sooks and Mary Beard. I know, it's a big dinner party.
What else would you like us to know about your book?
The Embroiderer has been picked up by a Greek publisher and will be available in Greek next year.
Who are your editors and how do you quality control your books?
SilverWoods Books in the Uk produced the book. I had the manuscript edited before I sent it to them but it still needed tidying up. They did an excellent job and the quality is first-rate.
About the Author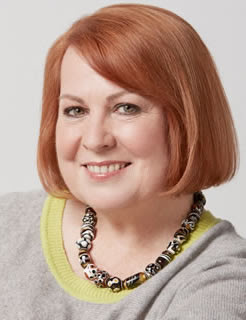 Kathryn Gauci was born in Leicestershire, England, and studied textile design at Loughborough College of Art and later at Kidderminster College of Art and Design where she specialised in carpet design and technology. After graduating, Kathryn spent a year in Vienna, Austria before moving to Greece where she worked as a carpet designer in Athens for six years. There followed another brief period in New Zealand before eventually settling in Melbourne, Australia.
Before turning to writing full-time, Kathryn ran her own textile design studio in Melbourne for over fifteen years, work which she enjoyed tremendously as it allowed her the luxury of travelling worldwide, often taking her off the beaten track and exploring other cultures.The Embroiderer is her first novel; a culmination of those wonderful years of design and travel, and especially of those glorious years in her youth living and working in Greece – a place that she is proud to call her spiritual home.
Buy The Embroiderer
The Embroiderer is a beautifully written novel spanning the 19th and 20th centuries, set against the backdrop of the Greek War of Independence. It was published on 5th November 2014 and is available to buy in paperback and as an ebook.
You can order from all good bookshops and online retailers.
Purchase directly from the publisher here:www.silverwoodbooks.co.uk
Published by SilverWood Books Ltd.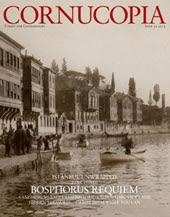 Cornucopia is the award-winning magazine for connoisseurs of Turkey.
The Embroiderer can also now be purchased from the Cornucopia web site.