"The Embroiderer" by Kathryn Gauci has been a marvellous find for me. It is just the kind of historical novel that I like to read. It is highly informative with a lot of political and cultural insights about a theatre of war I knew little about: The Ottoman Empire between 1822 and 1944 with a special focus on Greece and Asia Minor from 1912 onwards.
The story is spread out over several generations and illustrates multiple conflicts. An array of well-drawn characters make the wider picture personal and intimate.
In short, it was a real pleasure for me to read.
Blurb:
"Set against the mosques and minarets of Asia Minor and the ruins of ancient Athens, 'The Embroiderer' is a gripping saga of love and loss, hope and despair, and of the extraordinary courage of women in the face of adversity. 1822: During one of the bloodiest massacres of The Greek War of Independence, a child is born to a woman of legendary beauty in the Byzantine monastery of Nea Moni on the Greek island of Chios. The subsequent decades of bitter struggle between Greeks and Turks simmer to a head when the Greek army invades Turkey in 1919. During this time, Dimitra Lamartine arrives in Smyrna and gains fame and fortune as an embroiderer to the elite of Ottoman society. However it is her grand-daughter, Sophia, who takes the business to great heights only to see their world come crashing down with the outbreak of The Balkan Wars, 1912-13. In 1922, Sophia begins a new life in Athens but the memory of a dire prophecy once told to her grandmother about a girl with flaming red hair begins to haunt her with devastating consequences. 1972: Eleni Stephenson is called to the bedside of her dying aunt in Athens. In a story that rips her world apart, Eleni discovers the chilling truth behind her family's dark past plunging her into the shadowy world of political intrigue, secret societies and espionage where families and friends are torn apart and where a belief in superstition simmers just below the surface."
The book fares well on all accounts: It is well researched but not overloaded with unneccessary detail; it moves through the years fast enough to keep track of the overall development, yet it stays long enough with the characters to make their predicament understood; In short: History made feel real and alive. From the prologue to the epilogue I truly enjoyed this work of art.
Prepare to be moved.
Here is a link to my interview with Kathryn
About the Author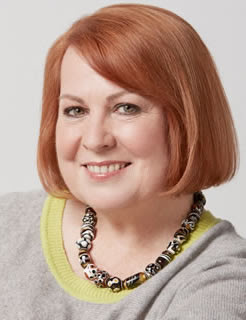 Kathryn Gauci was born in Leicestershire, England, and studied textile design at Loughborough College of Art and later at Kidderminster College of Art and Design where she specialised in carpet design and technology. After graduating, Kathryn spent a year in Vienna, Austria before moving to Greece where she worked as a carpet designer in Athens for six years. There followed another brief period in New Zealand before eventually settling in Melbourne, Australia.
Before turning to writing full-time, Kathryn ran her own textile design studio in Melbourne for over fifteen years, work which she enjoyed tremendously as it allowed her the luxury of travelling worldwide, often taking her off the beaten track and exploring other cultures.The Embroiderer is her first novel; a culmination of those wonderful years of design and travel, and especially of those glorious years in her youth living and working in Greece – a place that she is proud to call her spiritual home.
Buy The Embroiderer
The Embroiderer is a beautifully written novel spanning the 19th and 20th centuries, set against the backdrop of the Greek War of Independence. It was published on 5th November 2014 and is available to buy in paperback and as an ebook.
You can order from all good bookshops and online retailers.
Purchase directly from the publisher here:www.silverwoodbooks.co.uk
Published by SilverWood Books Ltd.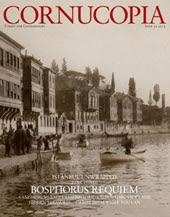 Cornucopia is the award-winning magazine for connoisseurs of Turkey.
The Embroiderer can also now be purchased from the Cornucopia web site.